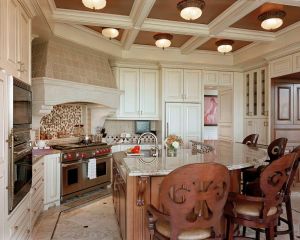 A large number of people choose to hire an interior designer when they move into a new home. In fact, many people hire interior designers to spice up a home they've lived in for years. There are lots of different reasons why people do this. Sometimes they're tired of living in a space that they know wasn't designed very well, so they hire a professional to come and make some changes/improvements. Other people would love to handle their interior design, but they simply don't have enough time between working full-time and raising a family. Other people know that they don't know the first thing about interior design, so rather than doing it themselves, they outsource the work to someone who knows what they're doing.
Whatever your unique reason for hiring an interior designer, before you sign a contract with one of them, you need to make sure you've got the right one. There are lots of things to consider when you're hiring someone to decorate and design the interior of your home. You obviously want to look through their portfolio to make sure you like their taste. You want to read some of their reviews to ensure that their past clients have been happy with them. And you want to choose someone with a lot of experience. The more homes they've worked in, the more confident you can feel that they actually know what they're doing.
However, of all the things you should be looking for in an interior designer, perhaps the most important is that they understand the importance of give and take. For an interior designer, this means that they know how to take from you what things you're looking for and combine that with their own taste and design style. The best interior designers are the ones who ask their clients lots of questions to gain an understanding of what they're looking for, and then incorporate that information into their own design plans. Great interior designers aren't people who just decorate the home as if it was their own. After all, it's not their own. The client is the person who's going to be living in the home. Instead, they pull insights and tastes from their client, combine it with their own tastes and expertise in interior design, and create a perfect blend of the two in the home. The home comes out looking professionally designed, but the people who visit the home totally think that the person living in it did the designing.
That's a perfect home interior design, and that's exactly what the best interior designers do. They don't force their own tastes down the throat of their clients, but instead work in unison with them to come up with something unique, fresh, and beautiful. That's certainly what MDK Design Associates does. They understand the importance of communicating with their clients throughout the entire process. That way, their clients end up with an interior design they love, and they only have positive things to say about the person who created it for them.